Here you'll find information about all our cycling paths, difficulty levels and colors as well as a map of our cycling park and MTB trails. Find your level and favorite trail!
Mickelina's Paths
Mickelina's paths are the easiest trails in Ramundberget, designed for our smallest visitors.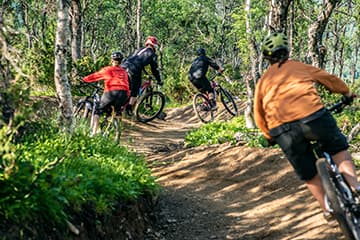 Lillskarven
Green, slightly longer cycling path starting from the top of Fjällgårdsbanan and circling down through the forest over towards Osthang.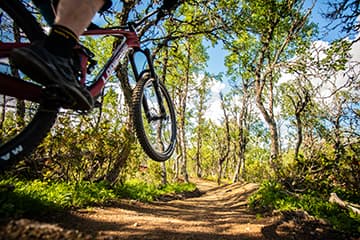 Storskarven
Green trail in slightly steeper terrain with some lovely curves that feel all the better with a bit of speed. Also starts from the top of Fjällgårdsbanan.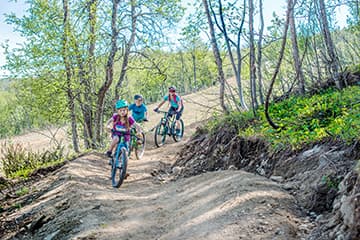 Helagsflytet
4 km of billowing turns make for perfect flow. Our main trail suits the whole family, from beginners to experienced riders. Minimal pedaling and braking is required as the whole path leans just slightly downhill. Passes beautiful view and rest points.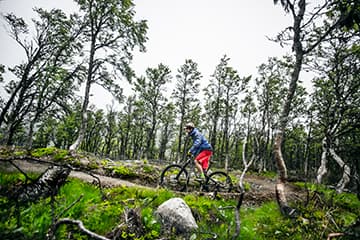 Axhögen
A technically advanced blue trail through the birch forest with glorious jumps and drops that connects to Helagsflytet. Axhögen starts from Restaurant Tusen.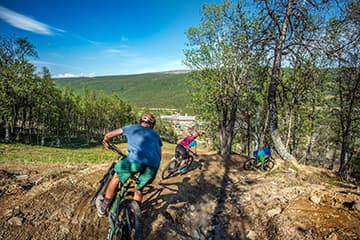 Gammelgruvbacken
Winding path beneath Fjällgårsbanan through part of the ravine. Challenging incline and sharp turns.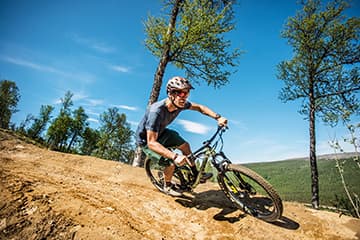 Röstvålen
The curvy beast by the birch forest on the edge of the ravine. Perhaps you'll hear cheers from the chairlift above, or maybe you're too focused on nailing that next bend. Connects to the Flow Trail before Ravinspången.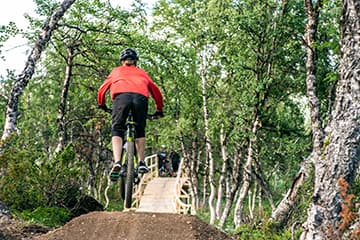 Skarsfallet
An advanced blue cycling path with smaller jumps and wooden constructions, plus a few smooth slalom curves. Perfect for those who want to start challenging themselves a bit more.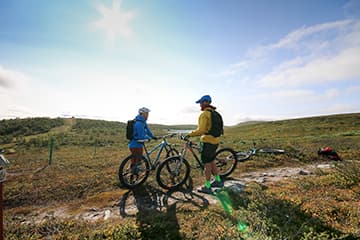 Tusenfallet
Starts at the lift and moves onto wavy turns and drops before finishing off with some optional jumps by Restaurant Tusen. A fun blue path above the treeline.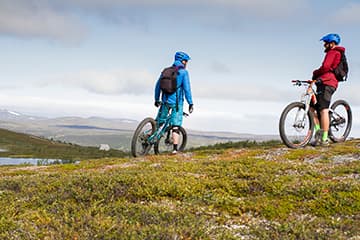 Mittåkläppen
A challenging natural path with rocks and steeps passages, lots of fun for the experienced cyclist. Suitable for those who seek a real challenge and who can handle the blue trails without problem.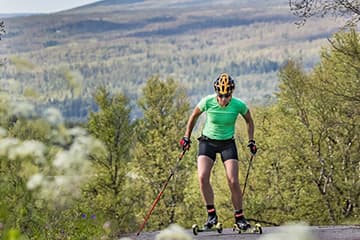 4Motion
Asphalted path with an even surface, free of cars and partly shared with roller-skiers. A part of Funäsfjällen Trail System, the 4Motion Trail offers pretty views through the valley. It passes Bruksvallarna and is about 8 km long. From there, you find many adjoining paths if you want to make it a round trip.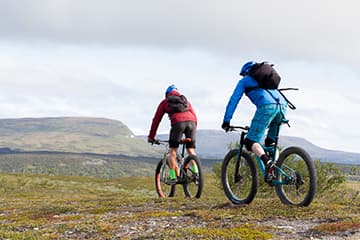 Kvarnbäcksleden
A combined hiking and cycling path with views for miles. Maybe include a cooling dip in Lake Kvarnbäckstjärnen when you pass by? Slight effort is required to reach Osthang Peak, but after this you'll be rewarded with a lovely path leaning past Osthangsklippan.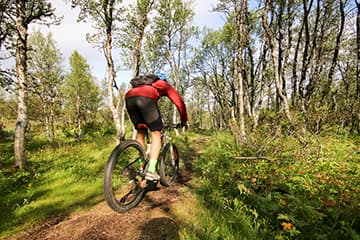 Klinkenturen
A popular first tour for getting a feel for your bike in nature. Klinkenturen starts in Ramundberget Village and continues into the valley. Part of the Funäsfjällen Trail System, it's about 12 km long. Mostly easy with some trixier parts, it runs along the south beach of River Ljusnan and returns on the north side. Paths are a mixture of exercise trails, soft forest floor and gravel.
Tusenslingan
Beautiful and easy trail cycling and cross-country path above the treeline for all ages. Runs past Lake Kvarnbäckstjärnen, where you can swim. Follows the lake for a bit and offers gorgeous views of our mountain peaks such as Helags, Skars and Mittåkläppen. If you're lucky, you may also spot Sylarna Mountains on a clear day.
Colors and Trail Difficulty Levels


Green Trails
Green trails are the easiest, and are characterized by their perfect flow. They are super fun and suit old and young, beginners and pros.
Blue Trails
Blue trails offer more challenge and demand more of the cyclist. Turns are sharper, hills are steeper and you may come upon playful hills that ask for more peadling and better technique. Blue trails are not recommended for beginners, but for cyclists who are comfortable on blue trails and who wish for more technical and physical cycling.
Red Trails
Mittåkläppen, our only red trail, is a very challenging natural trail that runs down the mountain. It contains steep downhill passages, inclines and natural rocks that require focus and skills. Recommended for those who are very comfortable on blue trails and in search of a real challenge!
Orange Trails
Our orange trails are combined hiking and cycling paths for trail and forest cycling. They will require you to pedal and are completely natural.
Facts
| | |
| --- | --- |
| Flow Trail | Trails of varying difficulty (see map) |
| MTB and trail cycling | Within the Funäsfjällen area |
| Highest trail | 1,000 m |
| Highest drop | 300 m |
| Pump Track | In front of Hotel Fjällgården |
| Skills Area | In front of Topsport Ramundberget |