Osthang in Ramundberget is the only snowboard shop in the area of Funäsfjällen. Here you will find boards, skis and clothes, made by riders for riders. In the shop you meet a unique community and there is also a café for energy replenishment.
Osthang's shop and café is located in the Osthang area just east of the Ramundberget village center.
This is not any shop, it is the shop for those who like to take the ride to the next level, in the piste, off-piste, in the parks and ski touring.
Outside the shop there is plenty of parking, a grill house with open fire and a heating cabin.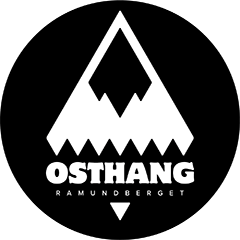 You can start your day and park at the store or reach the ski system by taking the chair lift Fjällgårdsbanan from Ramundberget and slide across the system to the powder area in the east.
The Osthang ski area has been a favorite among serious free skiers and has a nice mix of mountain birch forest, gutters and ravines.
Some of the rides have become classics over the years as the double black piste Svarte Petter.
The shop sells snowboards, skis and clothes, profile clothes and accessories for riders who like natural powder snow, sparse birch woods, high mountains and care about the environment.
Brands available in the store are Icelalantic, Lib tech, Gnu, Jones Dinosaurs will die, Rome.
The Osthang team are generous with riding tips and anecdotes, preferably over a cup of coffee and nice music.
Most arranged tours also start from here, such as Early bird and Anti-pist.
Keep watch at the Instagram account @therealoshang - when it snows, the lift opens extra early for anyone who loves untouched snow.
Whatever you do, don't miss any of the adventures, follow @therealosthang on Instagram.